TL MEDIA Advanced 2000Meter Wireless Intercom System 6008Pro with IP Remote Network function
0
stars, based on
0
reviews
Price:
$6380.00$5800.00 / set
Contact Us
TL MEDIA Advanced Wireless Intercom System 6008Pro with Base Station,
8 Beltpacks & Headsets
Advanced model
Hightlights
* Less latency
* Better sound quality
* More professional
* Can realize IP remote network
Feature
6008Pro series Wireless Intercom System is a professional intercom system used in broadcast and TV industry.
The device allows director and crews to talk with each other simultaneously.
Crews can be divided into groups according to their departments.
Each group can conduct internal communication simultaneously without disturbing others.
It is an wireless 8-way full duplex intercom system.
The outstanding features are listed below.
*IP networking
*Multi Base Station connection
*Multi RPTRL connection
*Cross-regional networking.
It allows director and broadcast site crews to talk with each other simultaneously even if they are in different cities.
Base Station Specifications
1. Frequency Range: 400-470Mhz
2. Transmission distance: 2km without relaying. The signal can go through 6 to 8 layers of concrete wall.
2. Transmission Power: less than 1 Watt.
3. Standard 2U rack Base Station with dimension of 440x255x88 mm and weight 2kg.
4. Channel quantity: 90.
5. IP networking available for cross-regional work.
6. Support 128 Belppacks at most.
7. Support multi-communication system connection.
* Matrix calling system.
* Double wire Party-Line wire calling system.
* Four wire Party-Line wire calling system.
* "AUX OUT" voice output, "AUX IN"voice input.
* MIXER connection
* PSTN calling system connection
* Analog or digital intercom system connection
Beltpack Specifications
1. Type-c port quick charge.
2. Designed with 3.7V and 5000mAh built-in Li-ion battery. Continuously communicate 10 to 12 hours or more. Standby 15 days or more.
3. Shining Integrated Tally Light.
4. 6 wire mini headphone XLR port.
5. Lower surrounding noise on site.
6. Standby Power is 40mW / 10mA.
Wireless Tally Light Specifications
1. Digital screen for adjustment of channel, luminance and number
2. Designed with 10 degree luminance. It is outstanding under hard light.
3. The duration time is about 10 to 30 hours.
4. Consist of LED array with red and green color.
5. Support many fixture types such as Multi Interface Shoe, bandage etc.
6. Support all master control switcher tally signal.
Headphone Specifications
1. 6 wire mini headphone XLR port.
2. Single-side comfortable headphone designed with left and right swaps function.
Lan Network Communication Diagram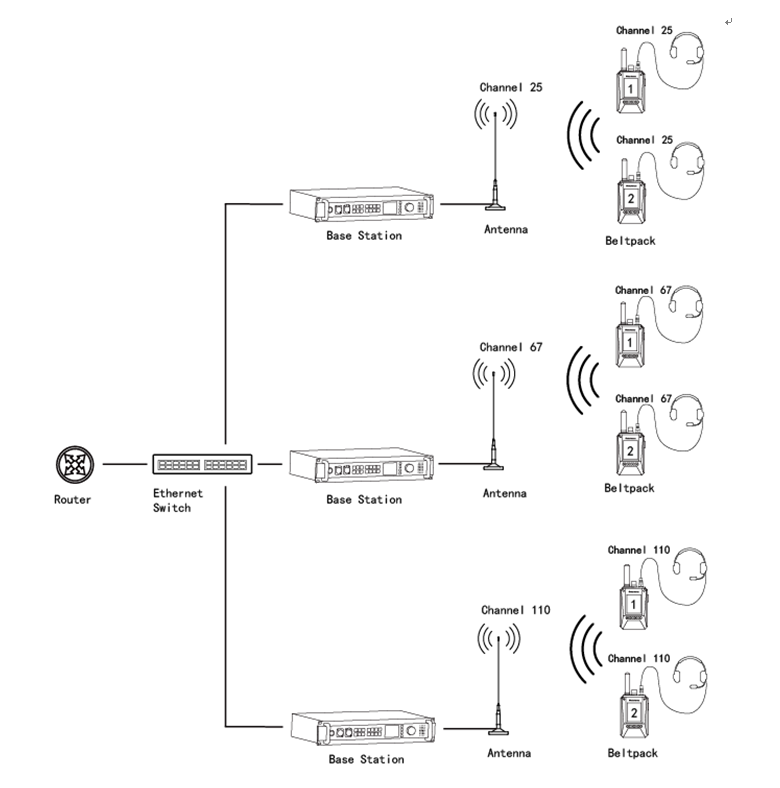 WAN Network Communication Diagram